Skala Thermis - Sikaminias
---
SKALA THERMIS: Saturday August 5th
We have come to the seaside village of Skala Thermis looking for our high schoolmate Katie Karakondis. She is not very difficult to find. I ask in the first cafe and they send me to a row of old houses on the beach. She is living in the last one with her husband Thanasis and their three children. Her mother rents out rooms to the pilgrims who come to the famous monastery of Agios Rafael and the ancient thermal baths. Luckily she has one room empty. We sit on a wall in the front yard, drinking ouzo and trying to have a conversation between the periods of crying and complaining of Amarandi who has been having a terrible time lately.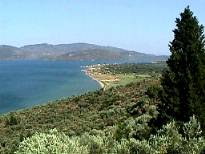 Thanisis is an artist, as is Katie. By profession he is a school teacher who is sent to different remote islands to teach high school. The last two years they were on Limnos. He doesn't speak English and his Greek is impossible for me to understand. I don't know if it's his dialect, his accent or as Andrea says, because he mumbles, but everytime he starts to talk to me I begin to panic and lose my concentration. I just nod and sort of agree until he's finished and then I look at Andrea for a translation. The problem is, she doesn't understand him either. If Katie has been listening she comes to the rescue and we can continue.
We have a great dinner with them in a traditional seaside restaurant called The Platanos which means the plane tree. We are serenaded by a crazy young Serbian who is taking a break from the war and his duties as violinist with the Belgrade orchestra to be a street musician. He plays quite well but is drunk and arrogant and quarrels with some of the patrons who find his music bothersome. We drink several bottles of ouzo and discover a new dish, a sun-dried, grilled mackerel that is heavily spiced. Amarandi is impossible. We send her off in her stroller with Katie's three children so we can have a few moments of uninterrupted conversation. She is screaming as they walk her down the road next to the harbor. When they return twenty minutes later she is still sobbing and we all give up and go home so we can repair the psychological damage. Of course she is fine as soon as we get into our room and close the door on the rest of the world.
The next morning we have pancakes and coffee with Katie and Thanassis. Her baby son, Stratiaki, has been having diarrhea for three days so she is planning on taking him to the doctor in Mytilini. Andrea gives her some homeopathic remedy that had worked on Amarandi and tells her to try it for a day. Katy is happy to not have to go into town. She introduces us to her mother who lives upstairs in a tiny apartment filled with stuff. I'm surprised at how American she is. As soon as we come in and sit down she wants to turn on the television so we will be more comfortable. She seems sad. She hates Lesvos but has no place else to go. It's that same old story about the allure of Greece. The simple life seems so inviting when you are struggling with the problems of everyday living in America. I feel the same way when I am going through a stack of bills, dealing with our finances and the hassles of my job. I long for that simple life. I would be happy with a loaf of bread and a chunk of feta, sitting under an olive tre e on a mountain overlooking the sea. It's a short-lived bliss, maybe a month or so. Then you realize that true happiness cannot be found in these few simple pleasures. You get lazy. Instead of walking to the olive grove you head for the cafeneon and an ouzo or two. In the end you are bored and cynical, wondering why you ever left the paradise known as America, for this.
Katie's mom came back to the family home in Thermi with her husband who taught at the University. Then he died and she was left alone in what had been paradise. It began to take on the look of hell. Even Katy and Thanassis want to leave. They'd like to go to America but don't know what they would do. They are afraid the transition would be too difficult for them. They feel paralyzed so they just pass the time waiting to find out where Thanassis will be posted next year. Katy says that Lesvos and Greece are fun for the kids, but there is no future here. That's why people behave so badly. There's a lot to be said for "living for the moment" but the Greeks make the expression something obscene. Eating, drinking, driving recklessly, and caring nothing for repercussions. To hell with the future..
Skala Thermis is a good example. A quiet seaside resort that sprung up around the old mineral baths is now a noisy collection of cafes and restaurants all playing loud music. Katy says that most of the people come because they are visiting the monastery but that's too difficult to believe. These aren't pilgrims. These people come to eat and drink until they explode. I find the villagers to be nice but the visitors are nasty, middle class, Athenians who learn all their social graces from watching Dallas on TV. The village is flooded with them and the system overloaded. The sea smells like sewage. I spend two days there and don't even stick my foot in the water even though it's ten meters from our door. Maybe this place was paradise when Katie's family moved back fifteen or twenty years ago and maybe it is only during this holy month of August that the town gets so out of control.
(I later discovered that what I thought was the small of seage was actually decomposing seaweed and I could have been happily swimming there had I known.)
So waking up this morning in Skala Thermis I have the urge to walk down to the sea. I sit on what is left of a stone wall that surrounds some low bushes. The sea is calm and like glass. The mountains of turkey are clear in the distance. I go back to sit in the shade at the bench in front of my room when I hear the next door neighbor's door open. What walks out could only be described as a whale in a string bikini. This woman is fifty years old and has to weigh close to three hundred pounds and she is wearing a bathing suit that would have been small for Andrea who weighs a hundred. I stagger into my room and collapse on the bed. It takes me hours to recover from the experience.
We take a walk to the mineral baths. They are closing but they let us in to take a look at the marble tubs, stained with the brown therapeutic water. I torture myself and imagine the fat old Greek woman laying naked in the magical healing water and it makes me just want to get the hell out of here. We walk around back and find the ancient baths. It's a covered room with a roof held up by a half submerged Corinthian column. It's beautiful in an eerie way but I can't help thinking that there is something strange about hot brown water coming out of the ground. Andrea says she wants to go for a bath on Sunday morning to soothe her aches and pains in the radioactive soup.
We walk onto the grounds of the old Hotel where visitors to the bath used to stay until ten years ago when the Greek Archeologists discovered ruins and in their zeal to excavate, tore up the beautiful gardens that were part of the hotel's attraction. Having exposed the stones they had gone on their merry way to dig somewhere else. Now it's another place for people to dump their garbage. The Hotel was a grand old building whose beauty far outshone the rubble of ancient civilizations the respected archeologist had dug up. It was a pity but a very common occurrence in Greece where entire neighborhoods are destroyed in the quest for a glimpse of the past.
We finally get on the road and head towards Skala Sikaminias. Our first stop is a fish taverna on a rock that juts out into the sea near a small clean beach where we are able to swim. Amarandi falls asleep so we have a peaceful lunch and then continue on the mountain road that follows the coast. Everywhere are signs of a military presence. Bunkers, bases, camouflaged sheds, radio towers and lots of young soldiers waiting for the next Turkish invasion. At Sikaminias we have a frappe in the tiny village that has somehow become infested with European tourists, and then take a swim at the beach around the bend where we had gone with Andrea's mother two years ago. Now there is a cafe and a fish taverna and the once empty beach. Several people still on the shore though the sun is setting behind the large mountains and the temperature is cooler. We drive back to Skala Thermis avoiding several wrecks with terrible Greek drivers. I remember when I had mentioned to Lue what a bad driver I thought her brother was and th at I was afraid to get in the car with him. She said that actually he was a very good driver because he could weave quickly in and out of traffic. I realize that this is the attitude here. A good driver is not someone who drives safely and considerately, but someone who drives like James Bond or Steve McQueen in Bullitt. If you drive fast, taking chances on the curves because you think your reflexes are quick enough to get you out of trouble then you are a good driver. I would not be considered a good driver. I'm one of those slow safe drivers who get good drivers killed when they try to pass us on mountain roads.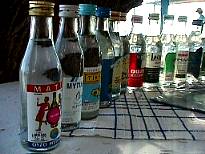 Our second night in Skala Thermis we wait half an hour for the waiter to take our order. I have to go in and take a bottle of ouzo and two glasses off the shelf just to keep from losing my self-control. Behind us, a fellow diner is yelling at the Serbian violin player telling him his music is inappropriate and to go away. I pay the violinist two hundred drachs for a Theodorakis song that he plays in such an overdramatic way as to antagonize our neighbor. Then Amarandi and I meet what seems like a very nice man who is cleaning the octopus behind the kitchen. I ask him how the spicy sundried mackerel is made and he tells me to go back to my table where he will join us "...because I have many things to tell you". Five minutes later he is at our table, complaining about his job, his life, the town, the visitors, and getting louder and more abusive every minute. He orders an ouzo which somehow ends up on our bill. When I go inside to pay he begins grabbing at Andrea every time he wants to make an impassioned point . Andrea finally insults him and he leaves to bother someone else. I refuse to pay for his ouzo which probably set him back half a days wages. When I return he is sitting with my idiot neighbor who had chased off the Serbian musician and they seem like they are made for each other. Andrea discovers a one thousand drachma mistake in the bill and goes to get some money back while Amarandi and I play with the octopus hanging from a clothesline at the next restaurant. We go home and fall asleep.
At three in the morning I hear yelling and swearing coming from the restaurant. It goes on for half an hour. It sounds like our friend the complaining octopus cleaner. The terrible smell of the harbor is so powerful it wakes Andrea up. I have this image of Lesvos as a rusted ship, leaking shit and toxic waste into the once clean Mediterranean, it's crew and passengers all intoxicated and insane from ouzo.
I wake up the next morning and can't pack fast enough. I feel bad because I really like Katie and Thanassis and feel like I'm deserting them. We also get a call from Lue and Ross and I could not in good consciousness recommend this island to them. Not that it's so terrible. It's just that we have to work so hard to find the good things about it.