In 1972 I came to America from Greece with the dream of seeing every band I had ever listened to or liked. That was my primary motivation and as circumstance would have it, I was able to see almost all of my favorite bands and more. Nowdays I won't walk two blocks to the Cat's Cradle to see a band. But these are the shows that influenced me in one way or another.
Summer Festival for Peace: This was in August of 1970 when my parents sent me back to America to keep me out of trouble after they had moved the whole family to Greece to keep me out of trouble. Me and 2 of my pals from Jr High dropped acid and took the LIRR to Shea Stadium and saw all these bands: Janis Joplin, Paul Simon, Creedence Clearwater Revival, Steppenwolf, The James Gang, Miles Davis, Johnny Winter, Herbie Hancock, Dionne Warwick, John Sebastian, The Rascals, the cast of "Hair," Pacific Gas & Electric, Ten Wheel Drive, Richie Havens, John Sebastian, Poco, Sha Na Na, Paul Butterfield Blues Band, and Peter Yarrow who was one of the organizers.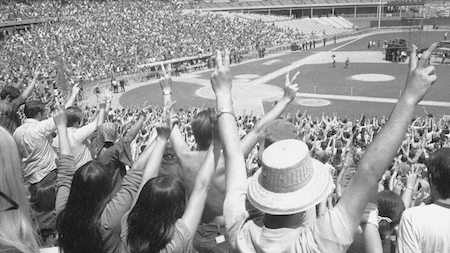 Young Rascals: Shea Stadium 1970.NY. This was like seeing the American Beatles though by this time the Beatles were lousy and didn't even attempt to play live unless it was on a rooftop where nobody could boo them. The Rascals on the other hand were great. They came on stage looking like they just got off the plane from Delhi and opened with People Got To Be Free. They continued with several more of their well known songs before embarking upon a twenty minute version of Freedom Suite, which of course bored most of the audience who just wanted them to continue playing the hits.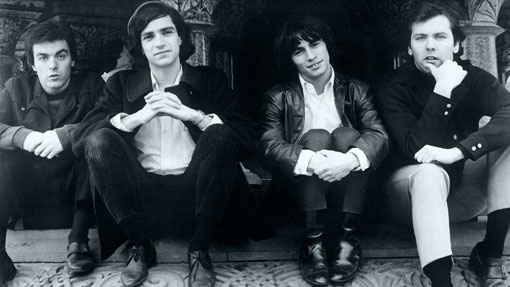 The Young Rascals
Steppenwolf: Shea Stadium 1970.NY. They opened with Hey Lawdy Momma and continued through all their hits including Monster, Magic Carpet Ride and so on. This was one of those 'I can't believe I am seeing these guys' concerts. They sounded exactly like the records.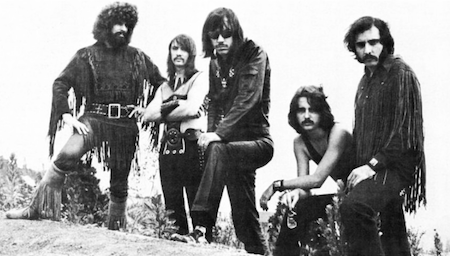 Janis Joplin with Big Brother and the Holding Company: Shea Stadium 1970.NY. This was during her Cosmic Blues period when she had a super tight band called Full Tilt Boogie backing her up. But for this one show she reunited with her old band who were on the bill. Supposedly she happened to be in town to do the Dick Cavett show and her performing was a surprise. She died a couple months later. This was her last show. She also sang a duet with Dionne Warwick, What the World Needs Now is Love Sweet Love.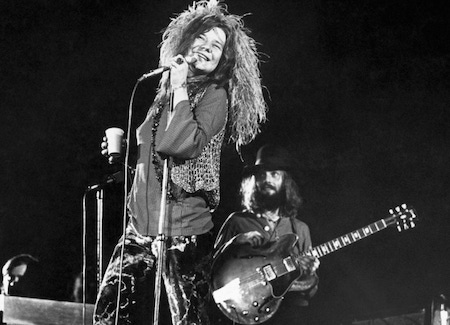 Janis Joplin at Shea Stadium
Johnny Winter And:Shea Stadium 1970.NY. This was Johnny at his peak, with Rick Derringer of the McCoys. White hair flying all over the stage while he exchanged solos with Derringer. It's an image I will never forget.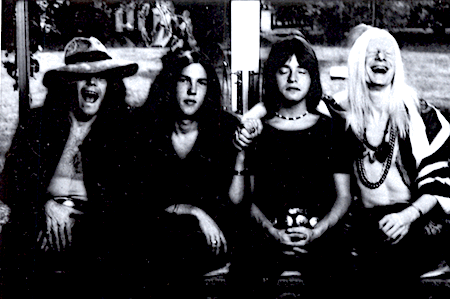 Poco: Shea Stadium 1970.NY. This was as country a band I had ever heard and in spite of that I liked them enough to buy their second album which I played a lot. I still like it. This was the original band with Richy Furay and Jim Messina though I had no idea who any of them were at the time.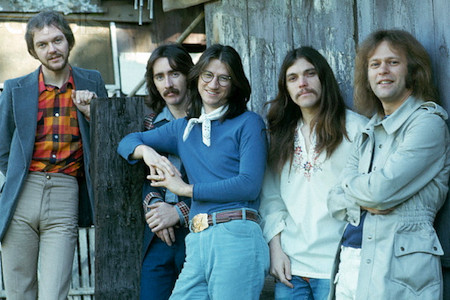 Paul Simon. Shea Stadium 1970.NY. He had just gone solo and got mad about something and stomped off the stage, only to return and apologize to all 30,000 of us. What he was mad about I don't know but if I ever meet him I will ask him.
James Gang: Shea Stadium 1970.NY. As I approached Shea Stadium for a big rock festival I was sure Led Zepplen was making a surprise appearance. It was the James Gang and I immediately bought their first album.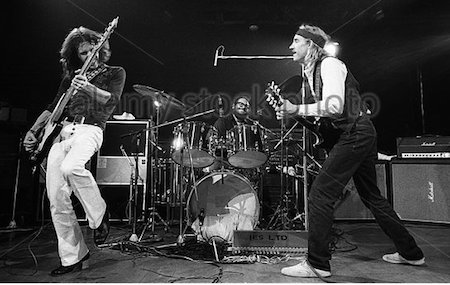 The Who: Greensboro. 1978. For the first few songs I was thinking "My God… it's the WHO!" But when Townshend took his first guitar solo and Entwhistle and Moon struggled to fill in the space vacated by his rhythm guitar I thought "Wow. Just another 3-piece band." Townshend had a line of identical Les Paul's, each numbered.
Lou Reed: 1974. Alexandria Roller Rink, Va. I saw this show with my heroin addict friends who loved him especially when he wrapped the mike cable around his arm like he was shooting up during the song Heroin. I was expecting his Rock and Roll Animal band but this group was a little on the funky side. He had just dyed his hair blond, a very radical move at the time.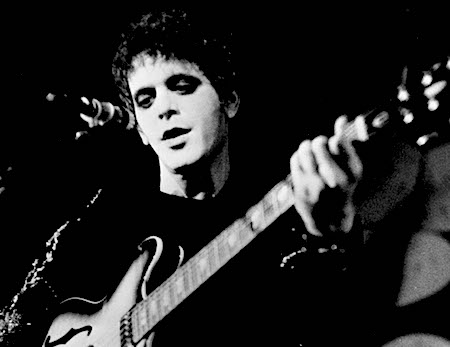 Hall and Oates: 1974. Alexander Roller Rink. Believe it or not they opened for Lou Reed while they promoted their War Babies LP. Daryl Hall played a giant Hammond Organ and did not come out front to sing and dance around once. He was just the organ player who also sang. They sounded a lot like Todd Rundgren at the time, probably because he was producing them.
The Police: 1978 or 9. CBGB's. This was their famous mini-van tour of America. They all wore black leather clothes and had dyed blonde hair. They played a dozen songs and then repeated their opening number, Can't Stand Losing You, as their encore, because they didn't know any more. I could never listen to their records, which sounded too slick. They didn't sound like the Police I had heard at CBGB's who were raw and powerful, somewhere between pop and Sex Pistols Punk.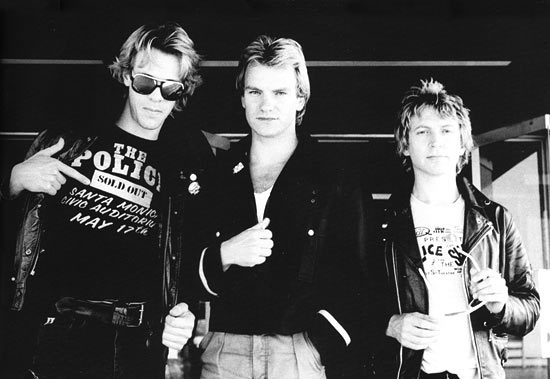 Creedence Clearwater Revival: 1970. New York. Hlfway through the show I convinced my friends to leave so we could beat the crowds to the subway. Not that the band was bad. I just never liked them. Twenty minute versions of Suzie Q and I Heard It Through the Grapevine is not my idea of good rock and roll unless you are really drunk in a bar, which is where Creedence belonged.
Peter Paul and Mary: 1965. Westbury NY.This was the first show I saw and I would have listed it first but I was afraid if I did some people would not read any further. Then again they probably were not even born in 1965 and I was listening to PP&M singing "I Dig Rock and Roll Music". Not only were they great but they signed my cast.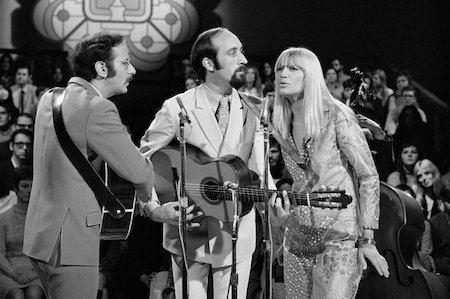 Bad Brains: 1980. Carrboro NC. This was the first of a dozen Bad Brains shows I saw and the first one that I actually put together and promoted at the Station. At one point in the Bad Brains set I was so overwhelmed by the intensity of their music and the reaction of the crowd, that I asked myself what kind of powerful forces had I unleashed upon my poor little town? This was one super-tight, loud and powerful band and the difference between them and almost everybody who followed them is that the Bad Brains could flat out play. The Reggae was good but they should have been two seperate bands. Luckily the reggae songs were at least one cigarette in length.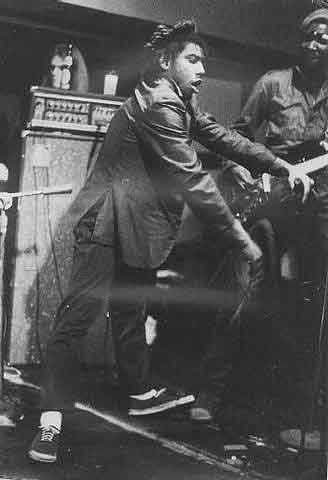 Bad Brains at the Station in Carrboro NC
Mink DeVille: 1980 New York. I could never stand these guys but my friend Nancy convinced me that they were her favorite band and worth seeing so I went to see them, They were pretentious and not very good. Afterwards Nancy told me that she was shocked because they had done all their bad songs. I think they moved to France where anyone can make it if they sing in English without a French accent and forgot which songs were their good songs.
Blue Cheer: 1986. Washington DC. They looked like Blue Cheer. They sounded like Blue Cheer. Two of the 3 original members were in the band including Dickie Peterson. Then I saw them again 20 years later at Local 506 in Chapel Hill and got to hang out with them at soundcheck and ask them all the questions I had always wanted to. Great guys. Unbelievable sound. Like the Bad Brains playing the blues but better. One of the only 3 piece bands I have ever heard that their sound allways stayed full. No holes. Paul Whaley is an amazing drummer and Andrew McDonald sure got a lot of sound out of his guitar. He may have been the best guitar player I had ever seen. Dickie Peterson is an Icon or even a God.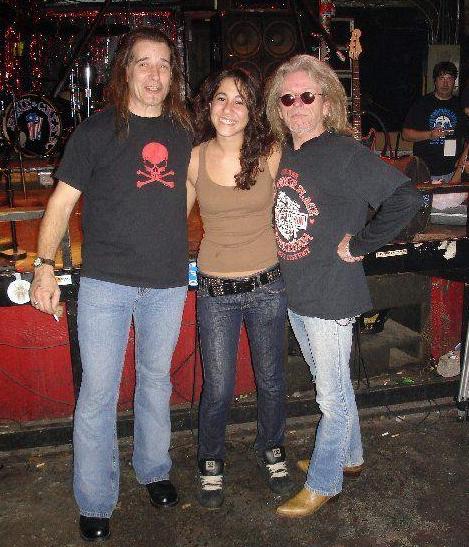 Blue Cheer with Amarandi Barrett
The Kinks. 1972. New York. Muswell Hillbillies Tour, opening for the Beach Boys. I didn't care about the Beach Boys but had to admit they were tighter and more professional then the Kinks who sounded like my bands in junior high, doing Kink songs. I asked my new LI friends who were all Kink fanatics. "That's how they are supposed to sound. They are the Kinks." Then it made sense.
The Kinks.1974. New York. Went with my friend Jimi Quidd, (who discovered and produced the Bad Brains), to the Felt Forum where the Kinks did their Preservation show.

The Kinks. 1975. Chapel Hill. Could it be that the Kinks had followed me down to Chapel Hill? This was their Soap Opera Tour, that they performed at Carmichael Auditorium. I was right on the stage. This was a new Kinks, without mistakes and tight by Kink standards. There was also a horn section and female backing vocalists who had roles in the little rock opera they did. After the show I was determined to meet Ray Davies and opened a door and found him standing in his underwear looking as shocked to see me as I was to see him. I introduced myself, complimented him and the band and backed out. On their way out of the building he smiled at me again.

The Kinks: 1978. Poughkipsee NY. A leaner, meaner, tighter Kinks, but the best part was Ray playing the hits on acoustic guitar. Dave Davies always kind of bugged me and the show seemed like they were trying to reach a younger audience who only knew them because of Van Halen. That's when they lost me.
Yes: 1977. Greensboro. A revolving stage and Jon Anderson wearing a white silk robe is about all I remember from this show.
Tom Jones.1976. Raleigh. When my friend at the Record Bar asked me if I wanted the two Tom Jones tickets that they couldn't give away I said why not and called my friend Chuck. The concert was full of middle-aged women and their husbands who looked like they were sexually blackmailed into going. Women screamed at every thing he said and did and some threw their underwear on the stage. At one point Tom Jones picked up a pair of panties and said in his welsh accent "What's this? A hat?" and put it on his head causing a great scream and a massive simultaneous orgasm in the auditorium. We sat at the very top and smoked pot with the two roadies. Said one of them: "This is probably the only concert I have ever been to where I can say for certain that we are the only people stoned."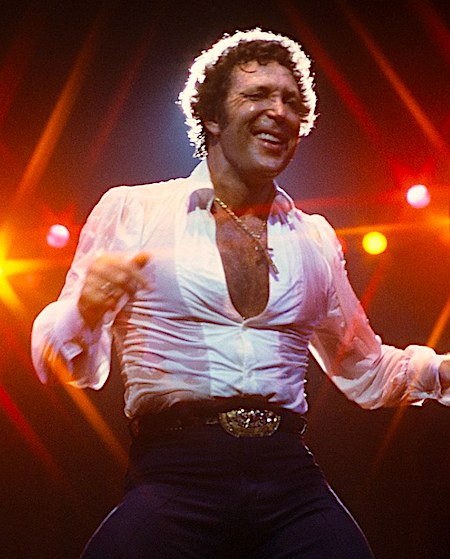 Bad Company. 1976. Greensboro. I was a fanatic for Free. I thought Paul Rogers was the greatest singer of all time and even though I didn't really like Bad Company, I had to go. I went early enough (5 hours) to hang out with Simon Kirke during sound check and find out which Free songs and albums were his faves. (He gave me all the wrong answers of course). The show was OK. Backstage after the show there were these beautiful young groupies who were there looking for Jimmy Page who had jammed with the band in New York a few nights earlier. When they saw Bad Company up close they were aghast. "They're so ugly", I heard one say to the other. Paul Rodgers said hi to me as if I was someone he knew. I thought that was kind of cool and wondered why and years later I realized we resembled each other. I'd rather have his voice than his looks but what can you do?
Emerson, Lake and Palmer. 1978. Greensboro. I wanted to see the grande piano that spins around but apparently they only use that for big shows. But Keith Emerson did shoot fireballs into the crowd with his portable synthesizer.
Alice Cooper: 1972. Hampton Roads. Va. If you were going to see Alice cooper then this was the show to see. It was during their Schools Out Tour which was by coincidence the year me and several million other people graduated from highschool. This show had it all, the snake, the gallows and a band that despite their reputation of being a bunch of drunks, was musically flawless. Maybe it's because I was young but this was one of the most amazing shows I have ever seen and it had nothing to do with the props. This was a great band at that moment in time.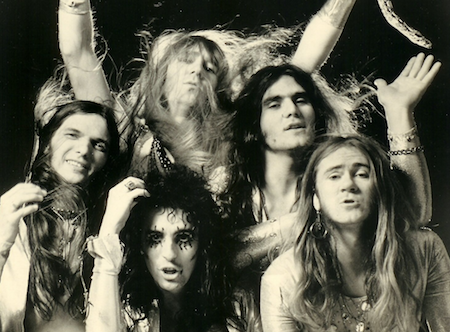 REM: 1980. Carrboro. I saw them several times when their audience numbered between 10 and 100 people. They did mostly obscure covers and a few originals and generally enjoyed themselves. My favorite song was Don't Go Back to Rockville but they dropped it from the show. I asked Michael Stipe about it at a party and he mumbled something about it being old and the band heading in a new direction and some other nonsense. "But it's a great song" I argued. Then when they were recording their first album at Mitch's I called Dixon. "Ask them to play a song called Rockville. It's their best song but they probably won't want to do it." Whether or not it was because of me, the song is on the album and even countrified it's still their best song.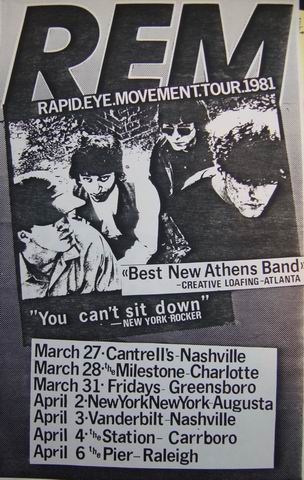 Rick Danko: 1990. Carrboro. I opened the show and after my set he was waiting for me backstage to tell me he liked my stuff. He talked slowly and seemed old and tired. "Excuse me. I gotta get ready he said." He disapeared into the bathroom and when he came out he was a new man. Perky, quick witted and inspired. Maybe it was his toothepaste. Afterwards we went to the Sienna Hotel and smoked pot and drank all night in his room with Rockin Gordon Lewis the DJ.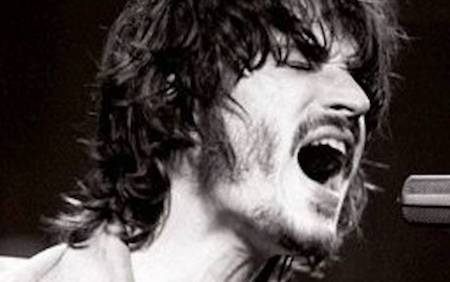 Rick Danko
Patty Smith: 1977. Chapel Hill. This was a concert at Memorial Hall during her Horses phase I suppose. The band was arty and sloppy and she reminded me of a scrawny female Jim Morrison doing spinoffs of The End and When the Music's Over Turn Out the Light and Horse Latitudes.
Roy Wood with Cheap Trick. 1996. New York. This was one of my heroes from his days with the Move and by chance he was playing a benefit with a bunch of other famous old people. When we got to the club we could hear Blackberry Way coming from the ballroom and we were so excited we told the girl at the ticket window to keep the change as we ran up the stairs. The room was packed and it seemed like everyone was familiar with his material which was a surprise in itself, though NYC is so big there must be plenty of cool people. What made the show even more special was that Roy's band was Cheap Trick. After the show we talked to Roy outside the theatre and again at the post show party at some bar on 8th street. (Ian Lloyd was there too.)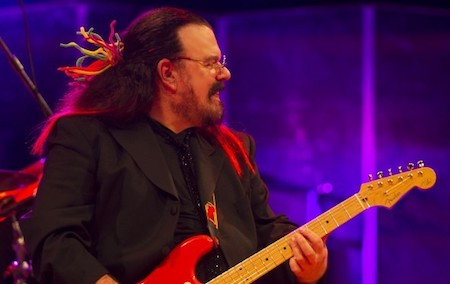 Jane's Addiction:1990. Memorial Hall. UNC. Loud, chaotic and lame. How did these guys get so big? Dumb question.
Roger Manning:1994. Duke Coffee House. I opened for him and had no idea what he would be like. He turned out to be the folk,(or anti-folk) singer I would most like to be like. Jamie Block took it a step further and copped his whole act. Now Roger hates him, or so Jamie says.
The Dots:1978.Cat's Cradle. One of my favorite all-time bands. This was the first of the New York bands to come down to Chapel Hill and their Sunday night show initiated a series of New Wave and Punk shows on Sundays. Great songs and Great band. They languished on the edge of popularity in NY and probably played CBGB's more then any other band that never made it. The story goes that the Bad Brains who were a jazz-fusion band at the time saw the Dot's at the 9:30 club and said "Hey. We can do that." Dot's lead singer Jimi Quidd produced Pay to Cum and bass player Leigh Sioris paid for it. When Jimi died I wrote the song Old Friend about him.
The Dots: 1986. Hannover Germany. This was the last gig on a tour through Germany that I joined the tail end of. The club was called Badd and it wasn't. In the middle of a park next to a raging river was a mansion with an outdoor stage. I opened the show and then the Dots played. By 11pm we were done but the party was just starting. By 2 am people were dancing naked. The previous show in Wuppertol, the Dot's recorded their live album, first during the sound check and then the show. Guess which one they used? (The passionate cheers and screams they dubbed on in the studio.) In Berlin a German film crew came in and asked if they could film the band. "Sure, if you give us money." Said Jimi. They declined and came back a couple nights later when Nick Cave was playing. If you look at Wings of Desire there is a row of Dots posters in one of the scenes.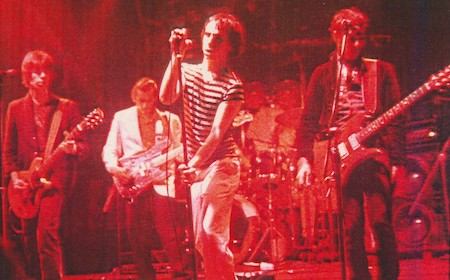 The Dots
Jonathon Richman:1990 something. Cat's Cradle. He doesn't like opening acts unless they are jugglers, clowns or puppet shows, but I befriended him on Franklin street and showed him Duke Forest. In return he let me open the show. He insisted on using his mike which was not as good as the Cradle's equipment and he told a guy from the audience to get the hell out and get his money back at the door after the guy inerrupted one of his monologues. I liked him OK but I didn't understand what the fuss was. His material sounded like the stuff P Huxley and I used to make up on the fly when we were competing in who could write the silliest song. (Like The Indian Song for example)After the show I asked how he liked my set. "We are very different", he told me. When a girl says that to me it means get lost.
Gang of Four:1980. Irving Plaza. NY. The Dots opened this show. During soundcheck they sounded awsome. Then they found out the Gang's soundman would be running the board during the show. What a difference. All high-end and feedback. Instruments dropping out of the mix at random. Then Gang of Four got onstage and sounded like Led Zepplin (with shitty songs.) During the show Crissy Hynde supposedly came in and found out the Gang was playing. "Fuck them. We came to see the Dots" she said and left. I asked about it later and apparently sabotaging the opening act is normal in NY.
Pressure Boys. Mid 80's. Art Center. Carrboro. Walked in on this show for lack of anything better to do. They blew my mind. Same intensity as the Bad Brains show but more uplifting.
Ben Folds Five. 1996. Cradle. I walked in to talk to Frank during their soundcheck and ran home to call all my friends to come to the show. None came of course. It was the first time I realized there were still people writing good songs who could really play. I had visions of Beatlemania for them. The next time I saw them the club was packed with beautiful girls and musicians. A good sign.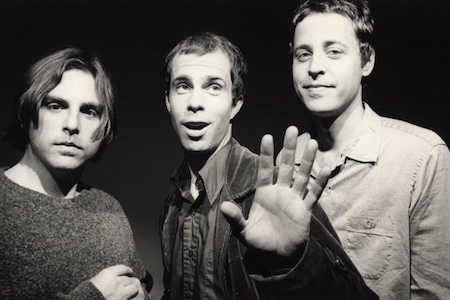 Arrogance.1975 to 1980. I must have seen fifty of their shows. In my opinion at the time they were the best band in America. Dixon was a cross between Joe Cocker and Paul McCartney. Robert was John Lennon but meaner and he didn't have a Japanese girlfriend sapping all his energy. The two of them could sing their asses off and wrote great pop-rock songs. The band which also featured Rod Anernathy, who was a well-known guitar player, Marty Stout on piano and Scott Davidson on Drums, played 3 hour shows of original songs and then would finish with an encore of classic covers. (Friday on My Mind, Born To Be Wild, Walk Don't Run, Secret Agent Man, etc). People would dance from start to finish and the audience knew all the lyrics. Dixon and his wife would spend hours doing the soundcheck until it sounded perfect. Another version of the band that they called DogBreath would play all classic covers from the 60's.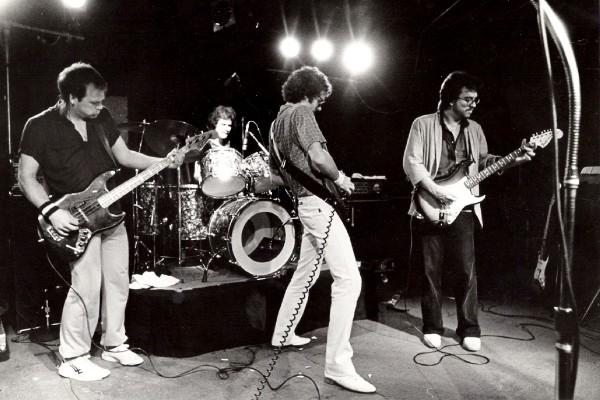 Arrogance
Roy Harper.1989. Mt Lykavetos. Athens, Greece. I was a big Roy Harper fan. One of the few. So imagine my surprise to see he was opening for a rag-tag version of the Byrds, whose only original member was drummer Michael Clark. Naturally there were only 300 people at the theatre that is built into the side of a mountain in the middle of the city. Roy was eccentric to say the least. He played a few songs I knew and rambled on between songs talking to I don't know who and saying I don't know what. At one point he forgot a line in a song and repeated the previous line twenty times until he remembered it. That took balls, I thought and my girlfriend and I went looking for him so we could take him downtown and buy him a drink, which he seemed like he could use. We never found him.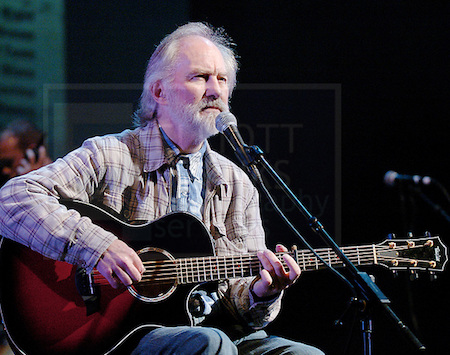 Don Dixon and Marty Jones: 1988. 9:30 Club. DC. Rick and I happened to be in the city and saw they were playing and rushed down to see them. They were good as usual, kind of like the Sonny and Cher comedy hour minus the comedy but far superior musically. After the show we went backstage which is always the wrong place to be if you want to talk to Dixon. There was some guy who used to live in Chapel Hill in the dressing room who recognized Rick from the Dads and began listing all of his favorite Dad's songs. He went through twenty of Rick's, each time Rick nodding his head at the compliment and thanking him. Then he listed a few of Zoe the bass player's songs. Finally he said he loved a song called The Sphincter of Love, which was one of the only songs written by Scott the drummer. I sat through this whole torturous exchange, waiting for him to list one of my songs. It never happened. Rick went up to go to the bathroom and I was left alone in the dressing room with this guy and an uneasy silence. Finally our eyes met. "How's it going?" He asked me.
"Just Fucking Great."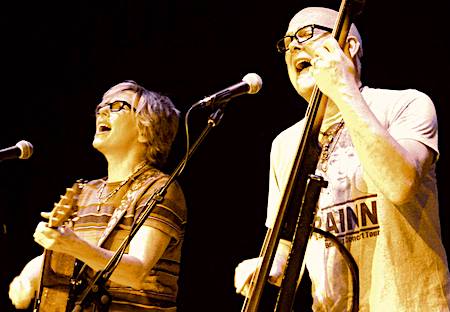 Jones and Dixon
Kick the Future:1986. Rhythm Alley. Chapel Hill. Take Robert Kirkland, his guitar, his voice and his songs and put him in front of a band featuring Jack Campbell on bass, Scott Davidson on Drums, and Terry Macinturff on lead guitar and you have one of the best bands in the history of Chapel Hill rock. Too bad they only stayed together a month.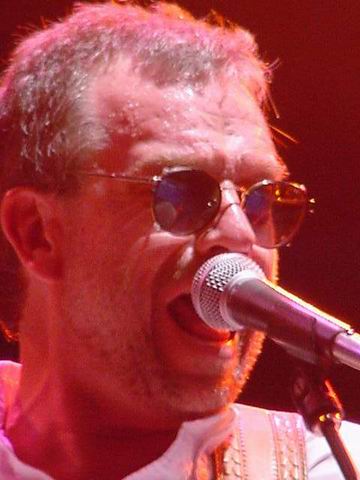 Robert Kirkland
The Bangles: 1982. The Pier. This show really took off when Jimi Quidd of the Dots asked the sparse audience why the Bangles didn't draw down here in North Carolina. Then he compounded the insult by asking how many people had come to see the Dots. Most of the people cheered. Then Suzanna Hoff sneered "We want to thank Iggy and the Stooges for opening for us". Then Vinnie the drummer of the Dots berated the Bangles soundman and told him how un-cool they were. That pretty much blew any chance we had of making it with a Bangle.
Al Stewart. 1985. Cat's Cradle. I opened this show and never saw hide nor hair of him until he got on stage. The show was very professional and of course everyone wanted to hear Year of the Cat. He couldn't remember the words or chords to Roads to Moscow, but I could have done it having played it in my set every gig but this one.
Natalie Farr. Early 90's. Chapel Hill. Coulda been a star. Beautiful voice, sad and beautiful songs. I would listen to her and wish that I was the bastard she was singing about.
The Fabulous Knobs. Early 80's.Chapel Hill and Raleigh. Imagine the stones with Keith (Dave Enloe), Mick Taylor (Keith Taylor) and then replace Mick Jagger with Aretha Franklin. That was the Knobs and for awhile they were second only to Arrogance in North Carolina. When Debbie DeMilo got married and moved to a small town in Indiana, they picked up the pieces and became The Woods whose song Battleship Chains became a hit when the song (with the Woods playing) mysteriously turned up on one of the Georgia Satelites demos. The record company loved the song and signed the wrong band.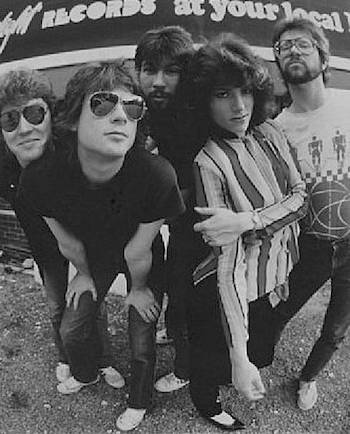 The Fabulous Knobs
John Sebastian: Numerous shows from 1970 until the late 80's when his voice was so gone it would have made sense to lip-sync. That's what chain-smoking Camel non-filters will do for you kids.
The Cars:1976.CBGB's. It was audition night and these guys came down from Boston sounding like an American version of Roxy Music. The most notable thing about the band was their name which was notable by it's noteworthylessness and we thought we had heard the last of them. A year later they were millionaires.
Shalom Hanoch: 1984. Jerusalem. My friends told me he was the Israeli Bruce Springsteen and his song Waiting for the Messiah was the hit of that summer. The concert was held at the Sultan's Baths, outside the walls of the old city and the entrances were guarded by soldiers but we got in by crashing the gates and none of us were shot. He was like Springsteen too with a great band and memorable songs even though they were in Hebrew.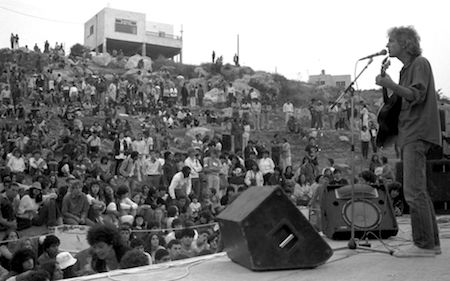 Indigo Girls: 1989. Chapel Hill. I opened this show to an all-female audience who hissed at a couple of my lines but applauded when I left the stage. But the Indigo Girls were like gracious hosts who let me use their tuner and even offered me a guitar. They were excellent. Beautiful voices, harmonies and dynamic songs.
Bruce Springsteen:1977. Duke. I didn't get it but Rick said if I saw him live I would and he was right. I did. I can't conceive of him putting on a bad show or anyone not liking him after seeing him live. The band was amazingly tight and he was all voice and energy. This was his breakout tour during Born to Run. The next time I saw him was in the Greensboro Collesium during his Darkness at the Edge of Town tour, once again with Rick and his girlfriend who I left in our lousy seats, while I went to the front of the stage which is the only place to be for Springsteen. I wondered how that giant voice could be coming from that little guy.
Jethro Tull:1978. Greensboro. Rick and I had the same epiphany. First of all there was the body that housed the voice we were so familiar with. Then we realized that the center of the band was this rock and roll core of guitar, bass and drums, while Anderson and the other guys played the folk instruments that made the band unique. 15 years later I saw him again at Walnut Creek. He had to use his flute to improvise the vocal parts he could not get to. Whether he was under the weather or his voice was shot, I don't know. The last time I saw them was at the ancient Herod Atticus outdoor theater which is on the Acropolis of Athens. I think they were the first rock band to play there. What a setting!
Procol Harum:1992. Walnut Creek. They opened for Jethro Tull and singer Gary Brooker sounded like he had been kept in suspended animation for the last twenty years. He sounded like he did on the records. The band had only one original member besides Brooker, organist Matthew Fisher, and many people would agree that they stole the show from Tull.
John Cale:1979. The Pier, Raleigh. I got in to this show for free because Cale's drummer was a friend of the Dots and played on their first single. I also got to meet Cale after the show and let him know he was one of my heroes. What I didn't ask him was why he did not play any songs from Paris 1919, my favorite album of his.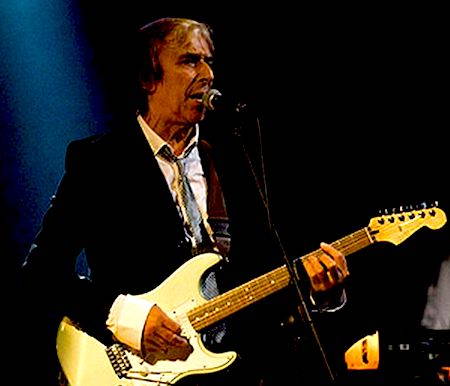 John Cale
Paul McCartney and Wings: 1985. LI. How could I go through life never having seen one of the Beatles? I got a scalped ticket outside the Nassau Coliseum and wandered around the place until I found a spot where the sound was half decent and the ushers wouldn't chase me away. The show helped me appreciate McCartney because material as mediocre as Silly Love Songs sounded pretty good being played by a big loud rock band and decent songs like Live and Let Die sounded like……Guns n Roses? I could hear people weeping openly during his acoustic versions of Yesterday but he lost the audience when he used his encore to introduce his new material which was not mediocre but just bad. But he made up for it in 2001 when my friend guitarist Rusty Anderson joined his band and gave us great seats at the Raleigh show. That was one of the best concerts I had ever seen. I would say perfect.
Rolling Stones: 1995. Raleigh. From the moment they opened the show with Start Me Up, until Keith's acoustic version of The Worst sent half the audience rushing to the restrooms, the Stones had me convinced that perhaps they were the worlds greatest rock and roll band. But that was a stretch of only four songs and after that I realized the only way to really see these guys was in a pub. That being unrealistic I tried to enjoy the show as we took turns with the binoculars, which by my way of thinking should not be needed when you have paid $50 for your seat.
Led Zeppelin: 1975. Greensboro. I came to Chapel Hill for this concert after waiting 12 hours on line in the freezing cold Long Island Mall ticket-tron outlet only to have five of the people in front of me buy a thousand tickets apiece and use up that outlets allotment. Now the concert is incidental and I can't believe I would do anything as crazy as leave home and travel 500 miles to a new town to live, just so I could hear a band whose only albums I liked were the first two.
Nils Lofgren: DC and Carrboro. The first time I saw him was with my buddy Leigh at a club in DC. We sat in front of the stage as Nils, a bass player and a drummer played his hits. The man is simply the best guitar player in America, in my (and probably Bruce Springsteen's) humble opinion. 10 years later I saw him at the Cradle with a bigger band. I used to think Nils voice was his only limitation. He was able to imitate the style of Paul Rogers (hold the cover of Gone Crazy up to a mirror and read the hidden message) but his voice lacked the power to pull it off. The Cradle show changed my mind and now I think Nils Lofgren has the entire package and deserves to be playing at places bigger then the Cradle, which was only a quarter full.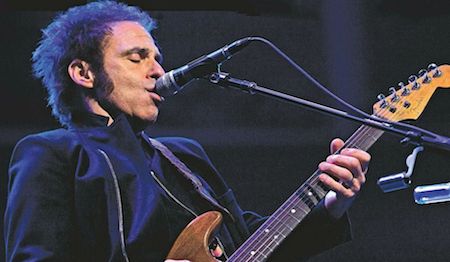 Del Amitri: 1997.Carrboro. I had never heard of them but when I walked into the Cradle to get paid for a postering job and Frank told me to stick around, I figured they would be good. Not only were they good but they sounded like I wish I sounded. They sounded like a cross between Parthenon Huxley and Arrogance. Great pop songs brilliantly played by a group of Scottish guys who I bet are older than they look. I bought two of their CD's and I listen to one of them (Some Other Sucker's Parade) regularly.
Roger McGuinn: Numerous times. I am not one of those big Roger McGuinn fans who thinks Chestnut Mare is a great song. In fact I don't think he has very many Great songs but he has a lot of good songs. But I like him anyway, especially in a band. When I was 13 years old I asked my guitar teacher. Wendal Post, if he could play the lead guitar solo in Eight Miles High. He said nobody could play that solo except McGuinn. My next question should have been "Could McGuinn play it again if he had to?"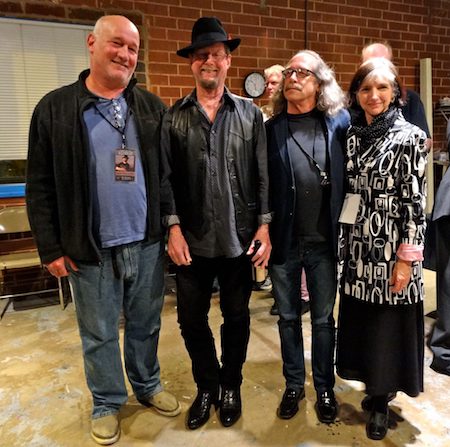 Barrett, McGuinn, Jones and Jones at the Carrboro Art Center
Don Henley: 1991. Walnut Creek. What was I doing at a Don Henley show? I once broke up with a girl for singing along to All She Wants To Do Is Dance because it proved we were incompatible. Actually Rick's bass player Jennifer Condos was in Don's band and not only did I have backstage passes but I even got to meet him at Crooks Corner. The band was professional as you might imagine and some of the songs that I recognized from skipping past them on the radio actually sounded pretty good. But I didn't even like the Eagles until Joe Walsh joined them.
Susanna Hoff: Same as above. By coincidence I had two friends in her band. I didn't know any of her songs until she played Bad Company's Feel Like Makin Love and by then I had totally dismissed her as a cute girl with a billion dollar record company paving her way. The only reason I knew who she was is because we had put up posters for American Express with her picture on it.
Parthenon Huxley: 1988. Chapel Hill. This was Rick's triumphant return with a super professional band doing all his songs and following his commands. It was truly a great band with Jennifer Condos on bass and this guy named Rusty who only played lime green guitars. This was Rick's band and if he was going to be as big as he wanted to be then this was the group for it, but a year later he was back in a 3-piece.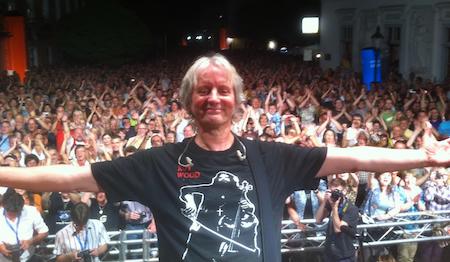 Parthenon Huxley
Jim Smith: Countless Shows. Chapel Hill. With all the signings of every band in Chapel Hill, (no matter how mediocre), and you had to pick one guy who had it all and should have made it, then it's Jim. He's sort of a rock-balladeer who writes classic songs and sings them like you would imagine James Dean would, while his girlfriends and ex-girlfriends listen for themselves in his lyrics.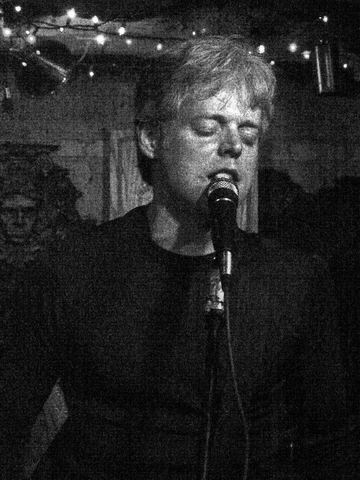 Jim Smith
Alex Chilton: 1980. Chapel Hill. My friend Bob volunteered to do sound for this show because he was such a big fan of Chilton's but after the show he didn't feel the same way. Halfway through the first set Chilton sneered that if the soundman would get it together the show might be better. Then he broke a string but when he opened his guitar case for a replacement, that one was missing two strings. So who didn't have it together? A reviewer wrote that one of my records "rocks like Chilton on an inspired evening". This was not one of those.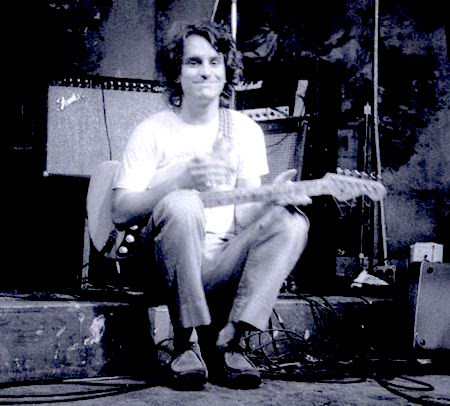 Alex Chilton
Brave Combo: 1994. Chapel Hill. Probably the greatest finish to a show I have ever seen in my life. After two hours of high-energy Polkas, 60's classics and songs learned from years of listening to Mexican radio, the band switched to non-electrified instruments for their encore (accordian, tuba, drum and clarinet, I believe). They led the entire audience like a train around the Cat's Cradle, then out the front door, across Franklin street and into Time-Out fast food restaurant where they stood playing on tables while the entire audience from the Cradle joined the bewildered customers and filled the place. Then they led the audience back to the Cradle and finished the song from the stage. You had to be there. I guess.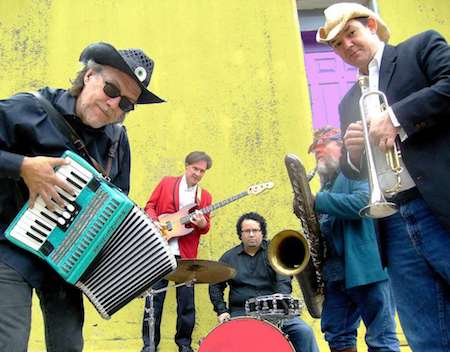 Morka: 1974. Athens, Greece. This was the band of my mentor Dorian Kokas during the dictatorship in Athens. Dorian was influenced by the Moody Blues and Crosby, Stills and Nash but when Leigh Sioris joined the band they learned to rock, though not enough for Leigh. They offered me a part in the band when the emphasis in music became the stage show. They wanted me to dress up like a gorilla that had escaped from the zoo, and terrorize George the lead singer. Then during the finale of a song called Elefteria (Freedom), I was to hold up a sign that said in Greek I am Free. Then I was to reverse the sign and it asked Are You? This did not seem like the smartest way to break into showbiz during a military dictatorship.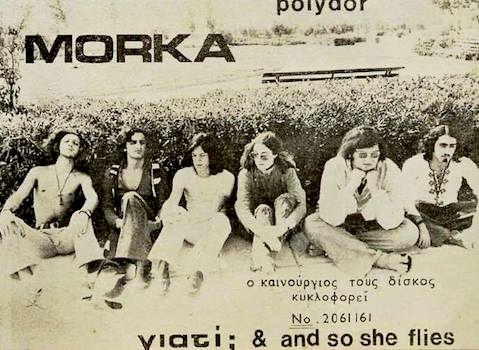 George Dalaras: 1988. Athens, Greece. Dalaras is Greece's most famous performer. He has over 75 albums and at this concert there were 90,000 people in the Olympic staduim. The sound was perfect even though my seat was not the greatest. At various points in the show there were 90,000 people singing along. His band was more like several bands with interchanging members who drifted in and out depending on the needs of the song. I decided to see if it sounded as good elsewhere and to my surprise it was. From what I could see, the main difference was that instead of having these giant columns of speakers on either side of the stage, there were smaller speakers spread out every ten yards or so around the stadium.
James Brown: 1999. Lykavettos, Athens, Greece. We climbed the mountain in the center of Athens to the ampitheater at the top and were treated to a classic James Brown show that had everybody dancing. As you would expect his band was fantastic. The thing I remember most about this concert was calling my friend Tony so he could come with us and Tony not coming because he was going to see Art Garfunkel playing across town. "Are you crazy?!! You are not coming to see James Brown because you are going to see Art Garfunkel?!!! Who turns down James Brown tickets to see Art Garfunkel??!!!" (I can't even imagine what an Art Garfunkel crowd looks like). Afterwards he claimed it was a really good show. But a year does not go by when I don't say "Hey Tony. Remember the time you went to see Art Garfunkel instead of coming with us to see James Brown?" This was one of the few concerts that I found myself being sad because inevitably the show was going to have to end. And when it did we walked back down the mountain to the center of Athens singing loudly in our James Brownsiest voices, while poor Tony took a taxi back to his lonely apartment, poured himself a glass of sherry and played his favorite Art Garfunkle albums til dawn.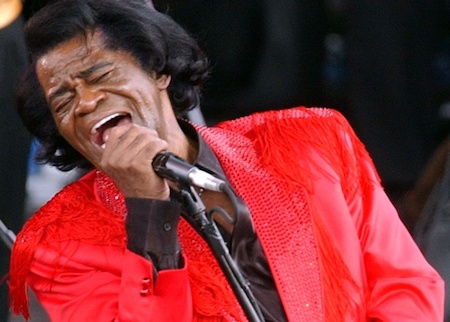 James Brown
NRBQ. 1988-infinity. Durham and Chapel Hill. For awhile they made yearly visits to the triangle and the shows were sold out, even in Durham. The band was always good and their fans, who have the same sense of allegiance as do the Dead Heads, never missed a show, or even a note. The energy level was always high and taking someone (like a date) to see them was a safe bet because unless she had no taste or didn't like to enjoy herself, she would love the band (and probably try to pick up Terry Adams). When I saw them at Under the Street in Durham on a sort of date with my sort of girlfriend Linda Burrell she would not leave the club because she was convinced she had "made a connection" with Terry Adams. "Terry connects with everyone in the audience" I told her. Then she got bummed out and didn't want to come with me to a friend's house for a small party and caught a ride back to Chapel Hill with somebody else. I went to the party. Guess who was there.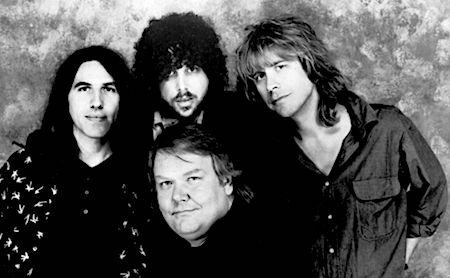 NRBQ
SunRa: 198?. Durham. This is as close as I get to jazz. I am not a fanatic of Sun Ra but enough of my friends are and they told me if I missed a single show I would regret it. I don't know if it's true but I enjoyed the music, especially after I came back from smoking a really strong joint. I think I saw them twice, or as many times as they played at Under the Street.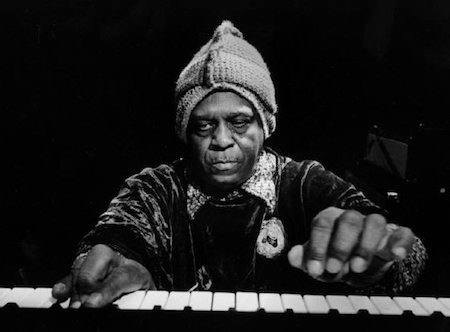 Sun Ra
Bruce Cockburn. Numerous Times. The best band was his 3-piece when his bass player used a Chapman stick. I have seen solo acoustic shows and another show with a big band where it seemed like he avoided every one of my favorite songs and when he did stumble upon one he would dismiss the group and do it alone.
Leonard Cohen. I got tickets to the show in Durham from his son Adam who I know from writing about Greece. He helped me with my Hydra page. I had met Leonard in Montreal in 1990 and actually got to hang out and reminisce about Greece and some of the people we knew back in the good old days. I reviewed this show in my blog and you can read it here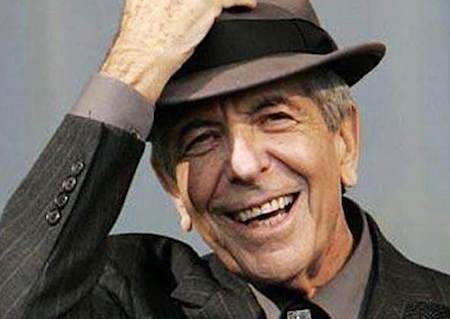 Replacements. 1985. Chapel Hill. From the opening chords I had high hopes for this show. The band was dynamic and tight and loud. By the third song they were just loud. I have never heard a concert deteriorate so quickly as if they had all taken bad acid before the show and were becoming gradually incapable of playing their instruments. How could a band so good be so bad, I wondered? I was told later that they were all drunk.
Taz Halloween. Many Shows. Chapel Hill. Probably one of the best blues and jazz singers in the area she prefers doing her own multi-media show with tapes and slides, most of it so personal that it scares off people who don't know her. If she stuck to roots she would be a star but she is not willing to make that compromise. Still she is a born entertainer and if you can catch her with piano player Robert Griffin, order a few scotches and enjoy the evening. I saw her share a bill with Drivin' and Cryin' and during her set people milled around the club in conversation generally ignoring her. The next act was an Atlanta redneck poet who fired up a chain saw and screamed the lyrics to Ina-gada-davida as the audience gathered round and listened in rapt attention. That was the moment I lost all hope.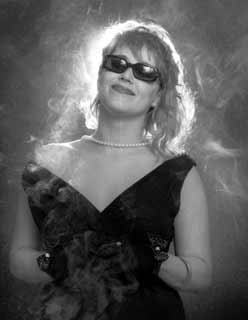 Taz
Dennis Yost and the Classics IV. 1975. Chapel Hill. Traces, Spookey, Stormy, Every Day With You, played to record-like perfection and all that I can remember is that this was the first time I saw Arrogance, who opened for them in the Tin Can on UNC campus.
Chickenwire Gang: Countless Shows. Chapel Hill party favorites play a mix of bluegrass, folk, big-band and funny material. Their shows usually end up as drunken orgies and they will play anywhere at anytime.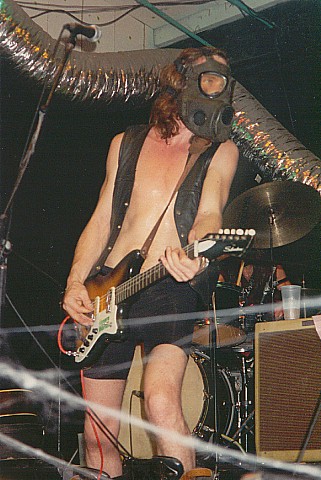 Stu Cole of the Chickenwire Gang
Robin Lane: 1989. Boston. When she was with the Chartbusters she was supposed to have been what Chrissie Hynde became. But she got pregnant and despite her enormous talent she was dropped from her record label like a hot potato. When I saw her she was playing with a couple other musicians doing a pop-country-folk show in a bar. She was fantastic and my date was so enamored with her and fell all over her to such a degree that everyone was embarrassed and I never received the cassete of her music that Robyn said she would send me.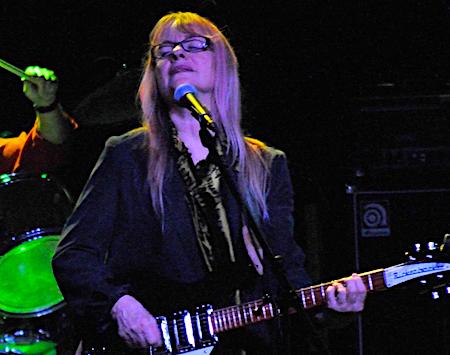 Squirrel Nut Zippers: 1996. Chapel Hill. There's only so much of this kind of music I can listen to without being drunk, stoned or both but I suppose I could say that about any kind of music. I know more people in this band then any other but that's only because it is such a big band. I missed the big Carrboro Town Hall Free concert where members of the town council were concerned about a riot, but I can't imagine Zipper fans rioting. I did catch them at Chris Stamey and Dana's wedding.
Mick Taylor: 1990: NYC. Al Maddy and Ivan Julian took me to this show at the Lone Star Café. We sat right above Mick and his band while they played a strictly blues show. We left after the first set. Keith showed up in the second.
Allmann Brothers Band: 1972. New Jersey. What I remember most from this concert of endless guitar and a drum solo that I fell asleep and woke up 45 minutes later and it was still going on, was the fireworks display. One of the rockets exploded at lift-off and a spark flew into the box of fireworks that blew up, creating the most amazing display I have ever seen on the ground. I think Santana played too. There were several big name bands. Maybe CSN&Y as well. I don't remember. But I do remember the fireworks and the guy who was lighting them running and diving for cover when he realized what had happened. Did I mention I was doing acid at this show? Regardless, it happened.
Bob Dylan: 1988. Chapel Hill. They say that when Dylan stunned everybody at the Newport Folk Festival by playing electric, Pete Seegar ran to his limo and but his hands over his ears and his head between his knees and cried "No, no, no!" Luckily he missed this show which sounded like a teenage garage band rehearsing Dylan songs. Maybe he was practicing for his New York gig. Some people loved it but I knew they hadn't even worked out the endings for half the songs.
David Bowie: 1989. Chapel Hill. Imagine hearing Bowie with a really great band doing all his hits in a small club. Well this concert was in the 23,000 seat Smith center but with three quarters of the seats empty and the upstairs closed off it was like a club. Maybe not a small one but how many small clubs have 50 foot video screens?
Billy Joel: 1988. Chapel Hill. He played his hits and he played them well. People put him down but he got big by working hard and being everyone's opening act for years before he made it. Then he dumped his wife/manager and married the world's most beautiful model and from then on he didn't have to be good. He just had to show up and play the hits which is what he does best.
Superchunk: 1989-90 Montreal and Boston. I have never seen them in Chapel Hill but wherever I go they are playing. I used to get all my copies done at Kinkos because Laura worked there and I had a crush on her even before I knew she was in a band.
Joe Williams: 1996-7. The Cave. This guy is a genius. Funny songs played beautifully. Really funny songs. Totally engaging. Great singer. There is nobody better at what he does.
Mungo Jerry:1971. Greece. I didn't actually see them but I thought I would tell the story anyway. It was during the Dictatorship in Greece when virtually no western bands were allowed into the country with the exception of Pink Floyd who didn't actually play but drove around in a van recording every sound they could find to use on their albums. A Mungo Jerry concert was announced for a certain date and we concert-starved Americans who didn't even like Mungo Jerry, not only went to the site of the show but dropped acid too. When we got to the gate there was no show, just the promoter selling tickets to a show that would happen sometime is the future if enough people showed up. Very sneaky. Announce a concert and see how many people show up.
Robyn Hitchcock: 1988. Raleigh. The Rialto was full when Robyn took the stage and announced that he could not play because he had a sore throat and the doctor had told him not to. Someone yelled "Is this a joke". It was no joke. The audience pleaded with him and he croaked out a song or two and then we all went home with the promise that he would return in a couple months, but it was actually a couple years. What I didn't understand was since his whole band was there why didn't they just jam? Maybe they didn't know how.
Graham Parker: 1986. Athens. Imagine a football stadium one-eighth full.Way down below is Parker and his band going through the motions. We were in the upper row and looking outside the stadium we saw an old fashioned Taverna with barrels of home-made retsina. We left the show and had a blast. I ran into him the next day in the Plaka and talked to him and his wife who were going off on a package tour to Corfu. I never imagined rock stars on package tours but why not?
Todd Rundgren: In 1993 I saw him do a solo show at the Carolina Theater in Durham and the next year I took my 12 year old daughter to see him at the Cat's Cradle with his band. Both were good shows but the problem with Todd, as other people have said, his idea of his best songs may not be your idea of his best songs which means chances are he is not going to play what you want him to and if he does it will be something like doing Hello Its Me for the encore. Now if Todd would ask me to make a set-list for his next Chapel Hill show it would be a great one. But I don't think that is going to happen.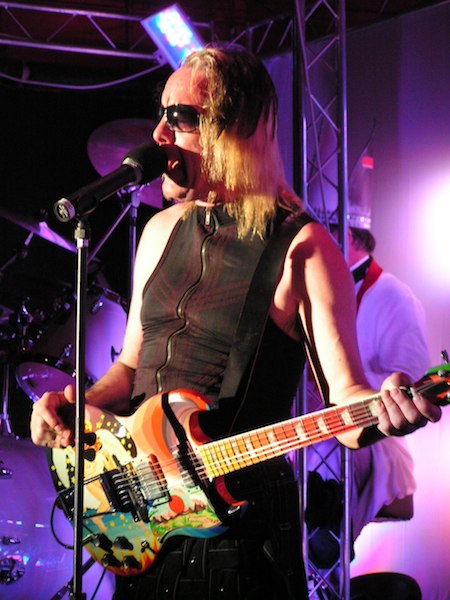 Todd Rundgren at the Cat's Cradle
Flo and Eddy: 1985. NYC. I was walking past the Bottom Line late one night and I decided to look in. Nobody was guarding the door and I walked into a room full of people singing "Happy Together" with Flo and Eddy.
3Mustaphas3: 1991. Chapel Hill. I bought their album in Boston after hearing it played in a bookstore on Newbury street. I knew almost nothing about the band except what it said on the cover which was all tongue-in-cheek so in fact I knew nothing. When I saw them on a Cat's Cradle flyer I was euphoric. The show did not let me down. The core was a British rock rhythm section and the periphery was a group of virtuosos in mostly middle-eastern and Balkan world-music. A Truly amazing band that should tour more if they even exist.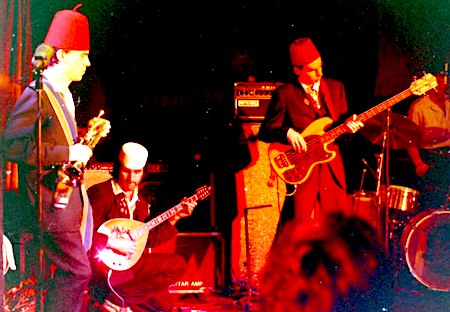 3 Mustaphas 3
The Strawbs: 1974. NYC. One of my first New York shows. this was supposed to be their big breakout and WNEW-FM was playing them constantly. They were a British Folk band who were starting to lean more towards rock at the time. They were great but they never did breakout.
Arlo Guthrie: 1980-5. Chapel Hill- Carrboro. Alices Restaurant was my first exposure to the Vietnam War. My 7th grade English teacher, Miss Snyman, played it for us because she loved it so much. Then they made it into a ridiculous movie and that was my first taste of how the media in American takes everything cool and packages it into crap. Then came Woodstock and Arlo's stoned monologue "I mean can you dig it, man? NY freeway's closed man", which is perhaps his most well known and most imitated recording. I saw him on consecutive nights and I admired the way he interacted with the audience, ad-libbing and poking fun at himself. The next night I saw him again and he did the same identical dialogue. It was part of "the act". Suddenly I realized that was what it was and that if I were to go on the road as a folk-singer I would have to develop "an act" too. I had to figure out which of my comments or anecdotes were funny, cute and so on in order to keep my audience involved. It seemed like a really unpleasant task and I never got around to doing it, or going on the road for that matter, thanks to Arlo.
Socrates Drunk the Conium or as we called them, Socrates, were an incredibly tight 3 piece blues/rock band who we went to see in Athens every weekend at the Kitaro Club. Yiannis Spathos was in our eyes and ears and hearts the world's greatest guitar player. They did a number of Hendrix songs and their originals and some blues. I saw them years later as a 4 and 5 piece band with the addition of Vangelis Papathansiou or as you call him Vangelis. I liked the 3 piece version best. I actually made a Socrates Website for them.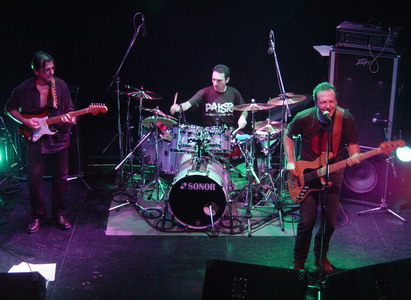 Electric Light Orchestra: I didn't see them until my musical partner Rick Miller aka Parthenon Huxley joined the band. But to be honest with you the only album I ever bought by them was their first and after Roy Wood left the group I did not think they were worth listening to, even after hearing all their hits on the radio. But it's amazing how much a difference it makes when one of your best friends and favorite musician joins one of your least favorite bands. Especially when they are playing at a Casino in Atlantic City, with a full orchestra! I could go on, and in fact I do in this review: ELO at Atlantic City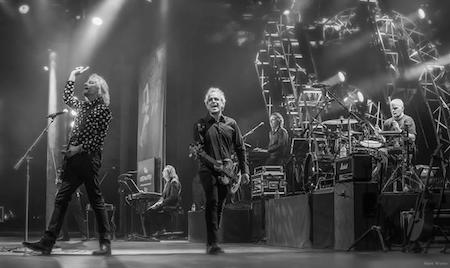 Orchestra (formerly ELO)
Yes there are more but I can't remember them for some reason. There are also people I wish I had seen, foremost among them The Move, Free and NYC's PIERCE TURNER.