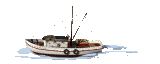 ADRIFT IN
THE CYCLADES
---

MYKONOS
The one place we didn't want to go is where we end up. It was my method of improvisational travel that got us here. We planned to take the SYROS EXPRESS all the way to Syros but I came up with an alternate plan. We would get off at the first port, Paros, where there would certainly be boats to Syros all day.....


ANDROS CHICKS ARE EASY
We get off the ship in the hot breezeless port of Gavrio and head for the first cafe to get a frappe and make our plans. I like the town. It has a tourist-less feel to it mainly because there was no reason that any tourist would want to be here......



RAFINA: ATHENS' HIDDEN GATEWAY
We arrive in Rafina around two in the afternoon and walk straight towards the least commercial looking fish restaurant in the port. Amarandi and I share a plate of kalimaraki that they didn't even bother to clean. Wrong restaurant. I used to have a method of finding the best kalamaraki restaurant in Rafina. They all look the same, some bigger some smaller and it's always hit or miss. ......



SAINT MATTHEW IN ATHENS
Mary's place is in total disarray when we arrive. Her pipes had burst and the plumber has torn apart the bathroom wall and floor to replace them. We are hot and sweaty and there is no water. Luckily we are invited to stay at Yannis and Georgia's so knowing that a shower is in my foreseeable future I take Amarandi for a walk to Tom Mazaraki's Flocati store where we drink beer, eat spanacopita, tiropita, ham and cheese, and watch CNN to see what's new with the OJ trial. ......