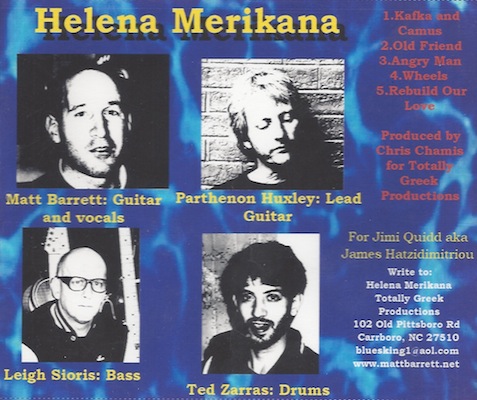 Matt Barrett on Helena Merikana:
This was my Greek band. Unfortunately we live on opposite ends of the earth so I recorded basic tracks on A-Dat and then sent them around. We mixed it at Captured Live in Durham (which has since burned down). There's about 15 songs in various states of non-completion, but they will get done. I'm in no rush.
The band was:
Parthenon Huxley: Guitars
Leigh Sioris: Bass
Ted Zarras/Chris Chamis: Drums
Click to listen to these songs. They will open in a new window so you can continue to read this while it plays. If you want to share them right click on the tool bar at the top of the window where it says Mattbarrett.net:
Helena Merikana
Old Friend
Kafka and Camus
Angry Man
Wheels
Rebuild Our Love
And don't forget these big hits from my past:

Six Pack (My big hit!)
Is This It (unsuccessful follow-up but still great)
Summertime (My next hit)
All My Friends from Greece (Unofficial Olympic Theme Song)
Nothing At All To Write Home About
One More Time
How Could I have Known
My Baby's Mmmmakin Me Dance
Restless
If I Did it Again So Would You
She Won't Follow Me Back Home (Recorded in 1981 with Chip Shelby and Andy Church)
and you can hear all of The Price of Illusion too.
You can also watch and listen to my video "All My Friends from Greece"
Here is a very rare version of One More Time played by Matt and Zoe
This is a rare Dad's studio song: Another World, which later became All My Friends from Greece
This is a really great version of All My Friends from Greece by the band Winston Texas
And finally this is a song that I hoped would never be found. I made it up and recorded it while Parthenon was using the bathroom an presented it to him when he returned. It is called The Indian Song
Mine and everybody else's hero Don Dixon has recorded my song 6-Pack
All songs copyright by Matt Barrett
Ruse Records 102 Old Pittsboro Rd Carrboro NC 27510