The Ruse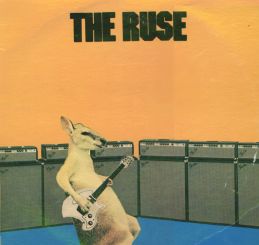 Listen to Six-Pack, How Could I have Known, My Babys Makin Me Dance and Restless
---
The Ruse - Matt Barrett
Matt Barrett's EP as The Ruse is a gem in the rough from a sly veteran and his clever cohorts. Barrett and Rick Miller (guitarist and singer on The Ruse) have been concocting music together since junior high in Greece, and they're performing in the area today as The Dads. The pair enlists the aid of Zoe Lagergren (Dads), Chris Chamis (Secret Service), Don Dixon (EP engineer and producer), and Mitch Easter (whose Winston-Salem studio was the recording site for the Moonlight series), The Ruse captures the sound of a crafty Sixties rock band with wit and savvy.
Rock 'n' roll seems more passion than occupation to Barrett, but The Ruse has a snap that could only come from a maturing tunesmith. "Six Pack" is a well-fabricated and funny tune about a lady who quaffs the suds at her breakfast table 'cause "it keeps her stable." The song's a nicely recycled Who number with dashes of Stones.
"My Baby's M-M-Making Me Dance" evokes rockabilly and The Kinks for a ditty about a guy dragged onto the dance floor. Though recorded two years ago, it cooks so well it's just right for '81... and for dancing,
Barrett shows potential that should be exerted within a challenging.group setting. His association with Miller reveals him to be a prankster and a rock 'n roll preacher.
-Raleigh N&O
---
Matt Barrett-whose vocals have been compared to Pete Townshend's-has created a packed demo full of quirky, though not necessarily hyperactive, pop songs. Spanning a period in which Barrett Inhabited at least five bands (His tongue-in-cheek Matt Barrett Report alludes to many, some of which I would guess are of dubious reality), the songs are simple, often clever and almost constantly inspired. The best stuff was done under the moniker THE RUSE with his brilliant buddy Parthenon Huxley(known then as Rick Miller).
Also available on a hard-to-find EP, the RUSE material is infectious power-pop. A lot of the rest of Barrett's songs are the talent-soaked ramblings of an artist with more ideas and lyrical concepts then people to sing them to.

-Jordan Oaks-Yellow Pills Magazine

---
Liner Notes From "The Ruse"
Matt Barrett and Rick Miller met in Athens, Greece in 1968. Matt was in 9th grade and Rick was in 7th. Rick saw Matt jamming with some band called "Yesterday's Beginning" at a teen dance. Matt knew lots of' chords and Rick was very im-pressed. They immediately started a band, naming it OFFICER HENRY. They did 'Land of a Thousand Dances,' 'Slow Down,' 'Hold On I'm Coming,' 'Hey Jude,' etc. Two guitars and drums. Some start. They loved it.
When portable cassette tape machines appeared around 1970, the boys and their friends in Greece became weekend studio musicians. A 60-minute cassette full of mostly spontaneous music constituted an "album." Tape bands sprung up over- night: The Dorian Kokas Expense, Rick Rock and the Flounders, Pancho K. and the All-Stars, and most importantly, CC: Blues King. C.C. Blucs King was Matt Barrett, Peter Christ, and Pete's brother -- CC Blues King himself -- Chris Christ. "C.C." Blues King's tapes were always the most innovative and lousy. CC could get more out of' one chord than any poet around. CC's status grew. He was wanted at all the sessions. If Chris was on an album, it was good, and everybody at school listened with pleasure.
Around 1971, CC Blues King decided to play "live". Rick had equipment and could play, so he was in the new live line- up. They then somehow recruited a pair of' step-brothers, Chuck and Mouse, who played sax and drums. It was a weird band. Two lead singers(Chris and Pete), two guitars(Matt and Rick), sax and drums. Matt made up the chords on stage during the show. He'd start off, Rick would fall in, then Mouse and Chuck. Pete and Chris made up words and started shouting, singing and screaming the instant song at the audience. CC Blues King was very loud and must have seemed pretty unusual to most of the high school kids in Greece. Friends of the band were crazy about 'em, but nobody else ever said anything much. That's what you get for innovation.
Eventually everybody graduated and/or moved back to the States. Rick went to Chapel Hill for academic reasons, and Matt ended up there because it was a nice place to hang out. From 1975 on, Matt knew the time was ripe to start a band. Nobody was playing rock and roll like it was supposed to be played and it would be a cinch to be the best thing happening.
Time passed. Music got better and better. The rock renaissance was on. Matt had lots of songs but no band. In the summer of 1978, Matt and Rick went into a local studio with Don Dixon of Arrogance producing and playing bass, and Mitch Easter playing drums. Easter had played guitar with the H-Bombs and recorded with Sneakers, which split into the dBs and Secret Service, and -- that's another story.
The boys recorded two songs: "My Baby's M-M-Makin' Me Dance" and "Restless". "My Baby's..." is a loud raucous rock and roll anthem to fun, with great dumb lyrics, a spirited vocal from Matt and hot guitar work from Rick.
"Restless" was written and recorded in a Free/Kossoff frame of mind, stressing simplicity in the rhythm section to support rip snorting guitar.
The songs were meant to be a single, but Matt and Rick couldn't afford to borrow any more money from Matt's mom to get them pressed. The master tape sat on a shelf for two years.
The recording stars had no record and still no band. In late 1978, Rick was asked to help rebuild the Blazers. They released an album called "How To Rock" for Moonlight Records in July 1980. Don Dixon produced that record, too, and he convinced Moonlight to let him do an EP with Matt, using the two songs From 1978 and two new ones.
The new songs, "Six-Pack" and "How Could I have Known" echo two of your fave bands from an earlier time, but are really very similar to the now sounds of today. The boys have made it at last. Congratulations, Matt, The spirit of CC Blues King rocks on.
Don Dixon has recorded my song 6-Pack
---